Apple is making its MacBook Pro harder to recommend thanks to the new 15-inch Air
A 15-inch Air feels like a much better fit for me.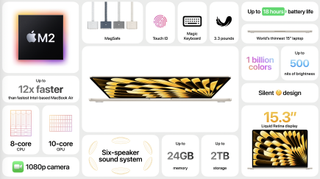 (Image credit: Apple)
I have a confession to make. I've owned MacBooks for over a decade, and they've always been MacBook Pro machines. My dirty secret is that I never needed them to be - I write, I use Notion, and once in a blue moon, I edit a podcast. I am not a Pro user, even working in tech journalism.
Perhaps it's not my fault, though. While Apple spent the 2010s chasing hyper-portability, shedding ports, and getting all weird with the keyboard, I went from a 2012 MacBook Pro to a 2014 MacBook Pro (RIP illuminated Apple Logo), to a 2019 and then 2021 model.
At that time, Apple reneged on many of its design changes. Am I wrong to want something so familiar? Still, WWDC 2023 brought with it new Mac hardware, specifically the 15-inch MacBook Air, and I realized that I may have bought the wrong MacBook.
You probably don't need a MacBook Pro
I'm being a little facetious, of course, because the 2021 16-inch MacBook Pro I'm writing this very article on is my favorite laptop of all time. The battery life is astounding, the display is stunning, and the performance blows my Intel-toting last Mac out of the water at every turn.
And yet, I can't help but look over at the 15-inch MacBook Air and think my next MacBook is likely to be over in that direction instead.
It does feel like Apple is at a crossroads, however, because the Mac feels like the purest distillation of what it wants consumer-level M-series laptops to be and do. It's light, it's powerful, and there's no PC that can keep up with it.
In the past, I've recommended buyers look to the MacBook Air lineup in 90% of cases. That extra 10% was reserved for the podcasters, the musicians, and the video editors.
While the M2 Pro (and above) models of MacBook Pros will always have more headroom, it feels as though unless you're a developer or working with wild resolutions in video edits, that number has shifted to a point where 99% of the market will be best served with a MacBook Air. You'll even save almost a thousand dollars, too.
What's new?
So what's pushed us to this inflection point where the two product lines are closer than ever? Two whole inches of screen real estate.
No, really. If you wanted a MacBook screen larger than 13.3 inches before WWDC, your options were the expensive 14-inch MacBook Pro, or an even more expensive 16-inch MacBook Pro.
The addition of the 15-inch MacBook Air, however, shakes things up. Apple dubbed it the "best 15-inch laptop", but if you don't need the horsepower of a Pro or Max chip, it pretty much does anything you'd expect from the MacBook Pro, too, with the added bonus of colors (Apple, I'm no pro user, but please give the MacBook Pro some more color options).
Last year's M2 MacBook Air is a great machine, and all that's changed this time around is the screen size - making it a much more appealing machine for those that use their laptop as their main, or only, computer.
With that, however, comes a larger chassis, allowing for better speakers, and a bigger battery to power that display. There's no improvement in battery life, but the MacBook Air actually already offered a better wireless web power return than its Pro sibling.
A little familiar?
So, it's getting tougher to pick a clear winner for most users - it was much easier when the Air was slim but had a pretty poor display (although we'd still rather the Pro's display).
What's interesting, though, is that Apple has been here before. The iPad, for example, has become increasingly homogenized across the entire lineup, to the point where it's actually very difficult to recommend the iPad Pro over the iPad Air for 99% of buyers - even when factoring in the M2 chip.
Apple's solution so far has been to, well, just keep doing the same thing - although we expect big things from the iPad Pro next year. With the M2 MacBook Air pushed closer to the magic $999 price, it feels as though MacBook Pro may need another big leap to justify itself to buyers - myself included.
Get more iMore in your inbox!
Our news, reviews, opinions, and easy to follow guides can turn any iPhone owner into an Apple aficionado
Lloyd Coombes is a freelance writer with a specialism in Apple tech. From his first, hand-me-down iMac, he's been working with Apple products for over a decade, and while he loves his iPhone and Mac, the iPad will always have his heart for reasons he still can't quite fathom.

Since moving from blogging to writing professionally, Lloyd's work can be found at TechRadar, Macworld, TechAdvisor and plenty more.

He's also the Editor in Chief at GGRecon.com, and on the rare occasion he's not writing you'll find him spending time with his son, or working hard at the gym (while wearing an Apple Watch, naturally). You can find him on Twitter @lloydcoombes.