How to run Diablo 4 on a Mac: we got it working! Multiple methods tested
Think you can't run Diablo 4 on your Mac? Think again.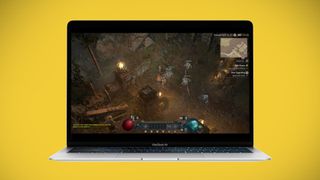 (Image credit: Andrew Williams)
Diablo 4 is one of the best-reviewed games of 2023. And it's probably never coming to Macs.
It's bad news for Apple fans. However, there are ways to get the game running on a MacBook or iMac.
I'm not going to lie. Making this happen has been a frustrating experience, but I've gone through the pain to help you avoid headaches and wasting any time.
There are five possible routes to getting Diablo 4 running on a Mac that I've found so far. They are Parallels, CrossOver, AirGPU, Shadow, and Apple's own brand-new compatibility tool, announced at WWDC 2023.
If you have an old Intel Mac, you can still run Boot Camp to get Windows running natively.
Parallels Desktop
I have the most experience of all the methods with Parallels Desktop, an extremely long-lasting piece of software that lets you run a virtual Windows PC within macOS.
At present, you cannot run Diablo 4 in Parallels because the software does not support DirectX 12, the graphics API the game requires, only DirectX 11. However, you can get quite far into the process.
Parallels Desktop will let you install battle.net and Diablo 4. You can get so close that I started worrying about how well the game would work rather than if it would work. But, yeah, right now, it won't run.
You'll see a "GPU not found" error on trying to run the game. iMore reached out to Parallels to ask if they have plans to add DirectX 12 support but are yet to hear back.
If you end up trying this for yourself, make sure you run the Diablo 4 or battle.net installers in the "run as administrator" mode. It's accessed with a right-click on the installer file. Not doing so throws up an error message.
Parallels Desktop starts at $99.99 a year, or $49.99 a year for students.
Verdict: Fail (for now)
CrossOver
The other original bright hope for getting Diablo 4 to run on a Mac was CodeWeaver's CrossOver. This is a piece of software that acts as a compatibility layer, translating Windows apps and games into ones that can run on a Mac.
It's ingenious. But it doesn't work with Diablo 4 yet. CodeWeavers create specific profiles for apps and games in CrossOver, and just like Parallels, the current version does not support DirectX 12.
The next major release of CrossOver, version 23, will support DirectX 12, though. Keep an eye on this one.
"Supporting Diablo 4 is a top priority for us. At this time, we don't have anything else we can commit to," CodeWeavers told iMore.
CrossOver costs $59.99, free trial available
Verdict: Fails today, but maybe not for long
AirGPU
This service, AirGPU, feels like getting the opportunity to treat a powerful gaming PC like an arcade machine accessed through your Mac. It lets you effectively rent a Windows PC In the cloud per hour and do more or less whatever you like with it, including playing Diablo 4.
Here's how you get started.
Go to AirGPU and select Get Started
Create an account
Add credit to your account in the My Account section, $10 or $25
From your account dashboard, select a virtual PC spec to "rent"
Select Start in the PC pane (this part will take a few minutes), so move on to step 6
Download the Moonlight client
Run Moonlight
Is the Virtual PC initialized on the AirGPU browser window? You should see an address entry box. Select it to copy the address to the clipboard
Go back to the Moonlight app, hit the "+" icon button in the top-right, and paste in the virtual PC address we just copied
A PC icon should appear in the main window of Moonlight
Select this PC icon, it will give you a numerical code to enter in the AirGPU browser window. Do so.
Select Desktop in Moonlight to start-up the virtual PC proper. You're in
It's all pretty easy, but — full disclosure — I did encounter some issues when trying to get AirGPU working. To start with, I simply couldn't get AirGPU to connect with the Moonlight app. And it only started functioning when I "deleted" the virtual PC instance within the AirGPU website and started up a new one.
However, after that, it all seemed to work swimmingly. You have to set up the virtual PC as if it has just had a fresh Windows install because it kinda has, but downloading Diablo 4 was snappy as the PC in the cloud has download speeds hitting upwards of 100MB/s.
We picked a fairly humble AirGPU virtual PC, one with an AMD Radeon W6600 graphics card. This is an expensive "pro" equivalent to the popular Nvidia RX660 and is easily powerful enough to get Diablo to run at 60fps.
Here's how it works money-wise. There's no subscription fee for AirGPU as a service. Without setup, you pay around 30 cents a day to keep the virtual machine active, avoiding the need to reinstall Diablo 4 and mess around with all those battle.net logins again. And you pay 75 cents an hour to actually use the PC.
Video quality is good, although not displayed in my MacBook Air's native resolution. It was a 1080p, 60fps feed. Other quality options are available when you spec up your virtual PC.
AirGPU is a great solution for occasional use, particularly if, say, you have a gaming PC at home but want to be able to play Diablo 4 on your Mac while away. Or perhaps you just don't game that much.
AirGPU costs $0.75 an hour. Or a little more for a higher-spec build.
Verdict: Works great, but you may experience some setup niggles
Shadow
There's another solid equivalent to AirGPU called Shadow. This is a bit of a slicker operation than AirGPU. It has a more corporate-looking website and even a blog. But the way you pay is different.
You pay $29.99/£29.99 a month for the base spec virtual PC, plus a $9.99/£9.99 setup fee. There's no commitment beyond that initial month, and you can use the virtual gaming PC as much as you like during that month.
By our calculations, it's likely to work out cheaper than AirGPU if you play for more than around 26 hours a month.
The specs you get at each service's baseline plan are a little different, though. AirGPU's graphics processing power is better, but Shadow provides more storage, with 256GB to AirGPU's 150GB baseline. Storage can be upgraded in both cases.
Shadow starts at $29.99 a month, plus a $9.99 setup fee
Verdict: A neat proposition for regular gamers, but requires more buy-in than AirGPU
macOS Sonoma compatibility
The final option is the most interesting, the most exciting, and could be bad news for the above outfits. Apple is working on a tool designed to get games made for Windows running on Mac. It's similar to the compatibility tools the Steam Deck uses to get games running on Linux.
Apple calls it the Game Porting Toolkit. And it uses the open-source code produced by the CrossWeavers team behind the CrossOver software we talked about earlier.
"We are ecstatic that Apple chose to use CrossOver's source code as their emulation solution for the Game Porting Toolkit," CrossOver product manager Meredith Johnson wrote on the CrossWeavers blog.
"We have decades of experience creating ports with Wine, and we are very pleased that Apple is recognizing that Wine is a fantastic solution for running Windows games on macOS,"
This is because CrossWeavers is a major force behind Wine, which is the base of the compatibility software used, for example, in the Steam Deck. It's not really all Apple's work going into this proposed compatibility tool — Apple is, after all, a company that has never really supported gaming all that well.
You can get games running right now using Apple's Game Porting Toolkit yourself. However, it's meant for developers to test and port games to Mac, and its license does not allow for individuals to convert games they own. You need to get down and dirty with Terminal commands and run the beta version of macOS Sonoma to avoid additional bugs. We're not persuaded most of our readers should be running Sonoma on their everyday computers yet.
A Reddit user has shown this method works with Diablo 4, though, achieving good performance with a Mac with an M1 Max processor. Are you feeling lucky?
Get more iMore in your inbox!
Our news, reviews, opinions, and easy to follow guides can turn any iPhone owner into an Apple aficionado