These Apple apps need a big overhaul at WWDC 2023
Apple's stock apps could do with an update at WWDC 2023.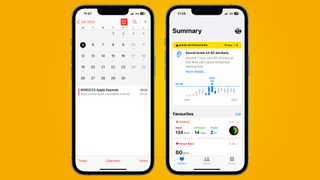 (Image credit: iMore)
WWDC 2023 is just hours away, and while all eyes will be on Apple's expected reveal of a new VR/AR headset, a new version of iOS/iPadOS, and a long-awaited watchOS overhaul, there's plenty more we're hoping to see.
Usually rolled in with new operating systems, Apple's "stock" apps (that's apps made by Apple, not the Apple Stocks app) often get a fresh lick of paint and a few new features - but some need it more than others.
In recent years, we've seen Reminders as a great example of what can be done with dedicated resources, but there are other success stories too, including Safari's overhaul, at least on Mac.
So, what could be getting the update this year? Here are our picks for the Apple apps we want to see get a boost this year.
Pages
Pages is an interesting app because we'd wager that while the majority of users will be quite happy with it, there are two key areas it could improve that simply won't affect a lot of them.
For one, Pages is a very compatible app, capable of opening and editing plenty of document types. That's ideal, and it's great for quick PDF exports, too.
Sadly, on the flip side, exporting a Pages file to another system is a bit of a roll of the dice - sometimes it'll move boxes around, and other times it'll translate something like an invoice template to a completely different layout when moved to Google Docs for editing or something similar. Interesting, Apple's Numbers app, which is focused on spreadsheets, is more consistent (at least in our use case).
Aside from compatibility, Pages is lacking behind on the collaboration front, too. Apple's iCloud integration, at least within a browser, feels like an afterthought but we're hopeful that Freeform may hint at a more team-focused future. Apple may never rival Google Docs for popularity, but it can at least step foot into the arena.
Calendar
For most, the Calendar app on iPhone, iPad, Mac, and even Apple Watch will be just what they need - it offers a place to store your events.
The trouble is that entering events, particularly on the Mac, is more than a little arduous. We actually quite like the clean UI, but there are so many fields to click when entering appointments, and Siri isn't always the sharpest tool in the shed when it comes to recommending new dates for your diary.
This is starker in contrast because Fantastical, a third-party alternative, is just much more fully featured. If Apple can offer a similar "natural language" way to turn "dinner with Daryl on Friday at 6pm" into a calendar entry, it'd be a huge step in the right direction.
Also, while we're on the subject of Mac Calendars, please give us a drop-down menu bar item to quickly add meetings and appointments (yes, just like Fantastical).
Mail
Oh Apple Mail, we're here again. It's worth noting that Apple Mail is much better than it's ever been, but it remains an awkward app to use day in, day out.
macOS Ventura added the likes of undo send, scheduled sending, and attachment reminders, all of which are very welcome, but nothing new. On the other hand, Apple Mail still remains considerably clunky, and it's insistent on downloading a huge volume of emails.
With faster, lighter options like Mimestream available (admittedly just for Gmail), it feels like Mail needs a hit of adrenaline. Search is slow and inconsistent, but last year's update suggests Apple is aware of how it needs to improve things - let's hope it isn't just left behind.
Health
The Health app is absolutely chock full of useful data, particularly if you're using an Apple Watch. The main issue is how it's presented.
The lack of a Mac app aside (come on Apple, let us see those charts on the big screen!), the Health App, as it stands, is essentially one long page. There are subsections, but to get through the information you'll need to do plenty of scrolling.
Here's hoping for an overhaul this year, alongside the expected watchOS 10 changes, to make it easier to dig into our Health data.
We'd also love recovery days, Apple, if you're reading.
Wallet
This last one only needs a small update in our minds, but it's important, nonetheless. As with the Health app, the Wallet can feel more than a little cluttered.
Between debit cards, credit cards, ID documents, loyalty cards, Covid passes, and the occasional event and transport tickets, there's a lot going on - with no real way to filter.
We'd love to see the option to set user-created tags in the Wallet app, so you can skip from bank cards to, say, your Subway rewards, or travel ticket, without needing to pick it from the bundle of cards in the stack.
Which apps are you most hopeful will get an overhaul at WWDC 2023? Let us know in the iMore Forums.
Get more iMore in your inbox!
Our news, reviews, opinions, and easy to follow guides can turn any iPhone owner into an Apple aficionado
Lloyd Coombes is a freelance writer with a specialism in Apple tech. From his first, hand-me-down iMac, he's been working with Apple products for over a decade, and while he loves his iPhone and Mac, the iPad will always have his heart for reasons he still can't quite fathom.

Since moving from blogging to writing professionally, Lloyd's work can be found at TechRadar, Macworld, TechAdvisor and plenty more.

He's also the Editor in Chief at GGRecon.com, and on the rare occasion he's not writing you'll find him spending time with his son, or working hard at the gym (while wearing an Apple Watch, naturally). You can find him on Twitter @lloydcoombes.